Erina Ice Arena invites you and your family to our Winter Castle experience this July school holidays.
Meet and greet with our Princess during the 11.30am public skating session Monday to Friday during the school holidays.
Tickets are $18 per child, and $22 per adult, Family tickets are $70.
Click 'Book now' to reserve your tickets. 
We do accept NSW Parents vouchers which can be redeemed for entry tickets at our cashier.
If you would like your child to learn to skate this school holidays, keep scrolling to find out more.
School Holiday Camp
Create cool memories this school holidays with a fun and exciting ice skating adventure. We guarantee an experience your kids will love while learning skills they've always dreamed of in our School Holiday Camp. Spots are limited each day, so please ensure you are booked in advance – bookings can be made by clicking 'book now'.
Classes run from 9.30am to 11am Monday to Friday every school holidays. Children will be split into groups to skate with other children of similar age and ability. Please arrive at 9am to ensure you have plenty of time to prepare for your class starting at 9am.
3-6 year old's will be excited to enter the Playgroup class full of fun activities that assist with building their on ice confidence and skating capabilities. Cost: $15 per session.
Children aged 7-15 will participate in progressive classes to challenge themselves and build on their skills. Cost: $30 per session.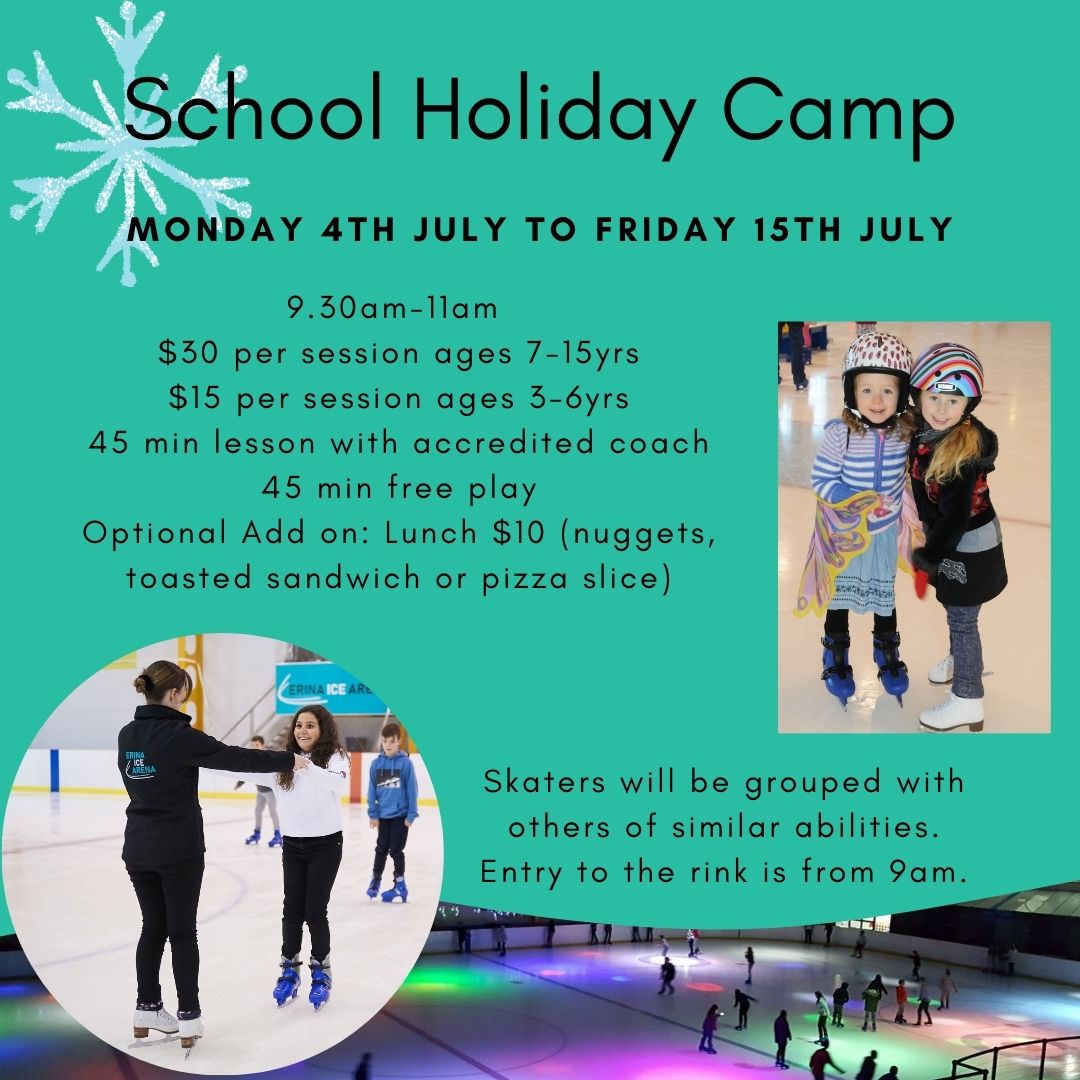 Ice Hockey Games
Australian International Ice Hockey Cup will be running games throughout the July School Holidays. Canada vs Sweden in 2022. Bring the whole family to cheer on your favourite team and enjoy the ice hockey excitement.
Dates:
Saturday 9th July,
Sunday 10th July,
Saturday 16th July
Sunday 17th July.
All games commence at 3.30pm. Entry to the rink from 3.00pm.
Tickets: www.events.ticketbooth.com.au/event/international-ice-hockey-cup-canada-vs-sweden